Overland Park, KS Lawn Mowing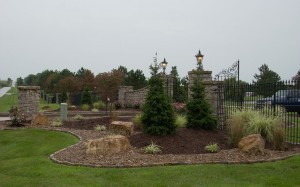 Why spend your weekend working, let Garden Gate Landscaping take care of your Overland Park, KS lawn maintenance needs.  We taylor our program based on your lawn needs, no lawn is the same!  We use the proper mowing equipment and trimming techniques to leave you with a beautifully striped turf.  Each of our mowing crews have a quality control coordinator who makes sure your lawn is maintained properly.  Nurturing and protecting your lawn and landscape investment is as equally important to us, as it is to you.
We are your source for Overland Park landscaping and lawn care. Whether you need maintenance, landscape design or just a little renovation, Garden Gate Landscaping can help with all of your Overland Park KS landscaping and lawn mowing needs.