Walkways, Paths & Patios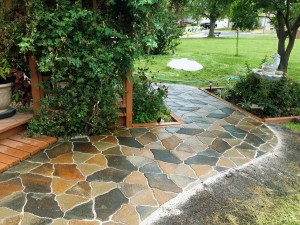 Adding a walkway, path or patio to your Kansas city home can add value to your home.  You can not only enjoy these beautiful hardscapes' during the warm months, but during winter you can add a fir pit or outdoor kitchen to provide a warm environment.
Patios:  Patios are appealing because they can extend your livable outdoor space, they give a sense of open space and freedom.  Add some outdoor furniture, a fire pit and kitchen then you are all set to spend the warm months in your own backyard oasis, who needs a getaway!  There are two different ways to create your outdoor patio using pavers or flagstone.
Paths & Walkways:
Adding a path or walkway somewhere around your Kansas City home, whether through your landscaping or leading you into your backyard can really compliment your home and landscape.  You want to make sure you pick a material that looks good with your home and landscape.  We can help create, design and install the perfect walkway or path for your home.